Blockchain in Publishing and Open Science
What's the state of play?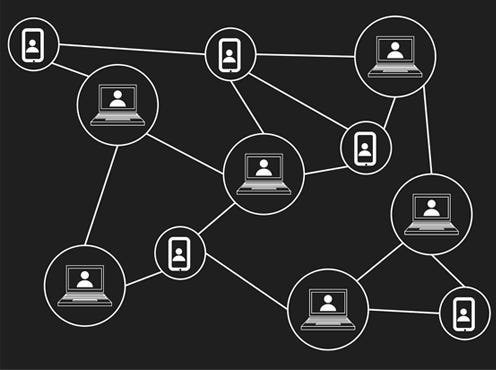 David Smith, Head of Product Solutions for The IET, has put together a good basic guide to Blockchain and when you should care about it for scholarly publishers but struggled to find a use-case other than decentralized identity management. Although a new Deloitte survey suggests that 80% of businesses see blockchain as a strategic priority finding a killer use-case for blockchain within publishing is proving tricky. Here's a quick round-up of the current state of play for a range of publishing and Open Science blockchain projects:
Publishing and distribution platforms 
Civil, a startup aiming to put journalism on a blockchain, flopped, missing its $8 million token sale target by $6.55 million but it still has $3.5 million in funding to develop a community-owned platform for independent journalism. Scenarex's Bookchain project, which allows authors and publishers to publish and distribute ebooks using blockchain and smart contracts, is in beta testing. Authorship, which uses Authorship Tokens to reward authors, publishers, and translators in exchange for book sales, has officially launched and aims to have 100,000 authors enrolled by 1 December 2019. Publica, which allows authors to set up ICOs for their books by selling tokens at certain prices and using the proceeds from these token sales to finish their book, have recently introduced a mechanism to pay using regular payment cards rather than cryptocurrency. Steemit, a blockchain-based blogging and social media website which rewards its users with the cryptocurrency STEEM for publishing and curating content has an active community (who largely write about blockchain). Narrative, another blockchain-based blogging and community network which distributes 85 percent of revenue to users, also seems fairly active.  The Gilgamesh self-publishing platform, which aimed to cut publishers out of the book publishing ecosystem by creating a marketplace for industry-related service providers, missed its token sale target and appears to have flatlined. Unlock is actively building a decentralised "access control" layer/protocol which can be applied to publishing (paywalls), newsletters, software licenses, etc. but you'll need a crypto-enabled browser that has a wallet to use it. 
Rights and Licencing
Several initiatives are trying to use the blockchain to manage rights and licencing, for example,  Po.et, is aiming to become the decentralized protocol for content ownership, discovery, and monetization in media. A new blockchain-derived identifier, the International Standard Content Code (ISCC), has been created but has yet to be widely adopted. Knowbella Tech has created a blockchain-based platform for researchers to unlock the idle intellectual property languishing in institutions, universities, and companies which will offer AnthroTokens as rewards for collaborating. 
Scholarly publishing
The results of the grassroots movements that want to 'tear down the academic publishing oligopoly' are mixed. It's not clear that Aletheia got much beyond the idea stage. Iris.ai has postponed Project Aiur. Orvium is still going strong and released a new version of its platform in May. Pluto Networks have pivoted to focus on building the excellent search engine Scinapse.  DEIP, an online decentralised research platform governed by researchers includes an internal currency that can be used to fund research projects via a linked cryptocurrency on the stock exchange, is in beta-testing.
Peer review
The publisher backed Blockchain for Peer Review project run in conjunction with Kataylsis has come to an end with a meeting scheduled for September to decide the next steps. Kataylsis have moved into micropayments with their new product Feather. ScienceMatters' Eureka peer review and rating platform is due to launch later this year. Lab Ledger, billed 'the Future of Scientific Peer Review' is no more. Apograf, an aggregator for publications on cryptography, distributed computer systems, blockchain technology, may be introducing tokens and a gamified leader-board style system, to provide incentives to researchers to dedicate time to conducting peer reviews. PRINCIPIA, a blockchain-based peer review ecosystem for academic publishing, doesn't seem to have got beyond the marketing website stage.
Open Science
A number of Open Science initiatives that want to change how scientific data is managed, scientific results are communicated, and scientists collaborate are being developed. Scientocracy, a science forum for rational people which is currently in pre-alpha mode, plans to experiment with blockchain-based utility tokens in the form of loyalty points and virtual assets. ScientificCoin, a blockchain-based crowdfunding platform which provides financial support for scientific projects, claims to have 163,512 users. Frankl has been awarded a Wellcome Trust open research grant to support the development of a blockchain-enabled app for dementia assessment. Scienceroot,an open access blockchain-based scientific ecosystem which combines all the functionalities required during the scientific discovery process, seems to have stalled. The Conscience.Network, a decentralised publishing and collaboration network powered by Dat and the blockchain, has become Axon and is seeking better testers. Matryx is a decentralized smart contract system for the creation, attribution and incentivization of scientific work.It provides a record of open units of scientific work ("Commits"), problems to be solved ("Tournaments"), and their proposed solutions ("Submissions"). 
Various institution-backed projects are starting to come together. For example, a consortium of leading research organizations, including Carnegie Mellon, UCL, ETH Library at ETH Zürich, Georgia Tech, IT University of Copenhagen, University of Belgrade, University of Johannesburg, University of Kassel, University of Nicosia, University of Sarajevo, and the Max Planck Society, have established the bloxberg infrastructure to provide scientists with secure blockchain based services including research data certification.  ARTiFACTS, a blockchain-based collaboration and attribution platform for scholarly research, and the Max Planck Society have partnered to develop blockchain smart contracts and decentralized applications (dAPPs) on the bloxberg blockchain to advance how scientific data is handled.
Closing thoughts
From a technical perspective, very few of these products and services meet Gideon Greenspan's conditions for use of a blockchain and are using complex, expensive blockchain technologies that require a lot of effort from potential users to try out, let alone adopt. Inevitably some companies, such as Pluto Networks and Publica, have moved or are starting to move towards more traditional database and payment technologies. 
From a business perspective, many of these initiatives are competing with well-established, products and services in a crowded marketplace. It's not clear that the arguments for decentralized services are convincing enough for a significant number of users to switch from existing services.  Jason Hoyt sums up the problem nicely: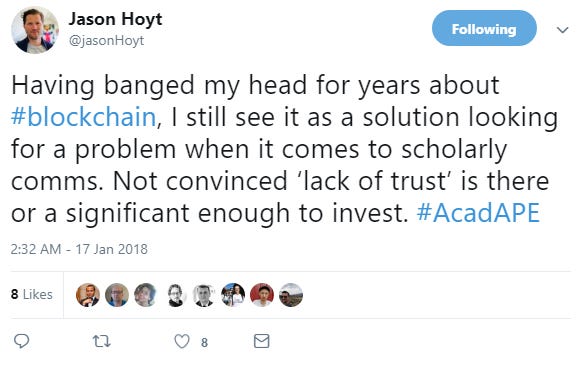 From an innovation perspective, blockchain technology has sparked lots of creative ideas and created many new companies looking at alternative ways of providing publishing services. The Seed collaborative event has brought together people with various backgrounds are working on new technological solutions for scientific research and will hopefully incubate something exciting. 
---
Disclosures: I own no cryptocurrencies and I have no financial stake in any of the companies mentioned. 
---
If you want to dig deeper try: